Lands and Water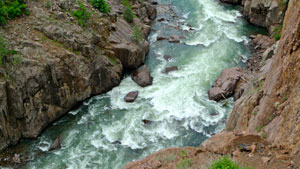 Colorado's rushing rivers and public lands are central to our economy and our way of life. As our population grows, demand is increasing on our natural resources. This year we worked to increase water conservation, protect water quality, and help fund our great outdoors.
Investing in Our Great Outdoors
As our public lands are being threatened by the Trump administration, here in Colorado, our legislators made strides to protect them.
This year the state legislature passed two bills to help fund our public lands. One bill renewed a massive funding stream for Colorado's outdoors through Colorado's lottery. This bill (SB 066) dedicates funding for parks, open spaces, and outdoor recreation in all 64 counties of Colorado. Another bill (SB 143) protected the future of our state lands by allowing Colorado Parks and Wildlife to prevent budget shortfalls and meet its goals by adjusting user fees to keep pace with inflation.
Coloradans care deeply about our outdoor spaces, and our legislators know it. That's why they enacted two critical bills to help protect them for future generations.
Bills Tracked