Recognition of Public Lands Day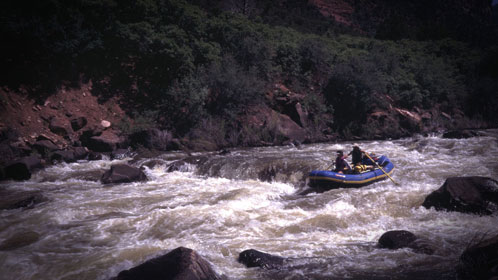 Yes
is the pro-environment vote.
Status: Signed into law
Description: Coloradans from all walks of life came together to pass this bill, which establishes a first-in-nation state holiday to celebrate the benefits of public lands in Colorado. This bill reflects the strong affinity Coloradans have for public lands, whether for the scenic value, growing outdoor industry, or incredible wildlife that our lands boast. The holiday offers a rebuke of the extremist public land grab agenda, proving that Coloradans want to keep public lands in public hands. It passed the legislature with bipartisan support, and was signed into law by Governor Hickenlooper.
| | | | |
| --- | --- | --- | --- |
| Pro-Environment Vote | Anti-Environment Vote | Excused | 100% Environmental Voting Record in 2016 |
House Votes
| | Representative | Party - District | Vote |
| --- | --- | --- | --- |
| | Arndt, Jeni | Democrat - 53 | |
| | Becker, Jon | Republican - 65 | |
| | Becker, K.C. | Democrat - 13 | |
| | Brown, J. Paul | Republican - 59 | |
| | Buck, Perry | Republican - 49 | |
| | Buckner, Janet | Democrat - 40 | |
| | Carver, Terri | Republican - 20 | |
| | Conti, Kathleen | Republican - 38 | |
| | Coram, Don | Republican - 58 | |
| | Court, Lois | Democrat - 6 | |
| | Danielson, Jessie | Democrat - 24 | |
| | DelGrosso, Brian | Republican - 51 | |
| | Dore, Timothy | Republican - 64 | |
| | Duran, Crisanta | Democrat - 5 | |
| | Esgar, Daneya | Democrat - 46 | |
| | Everett, Justin | Republican - 22 | |
| | Fields, Rhonda | Democrat - 42 | |
| | Foote, Mike | Democrat - 12 | |
| | Garnett, Alec | Democrat - 2 | |
| | Ginal, Joann | Democrat - 52 | |
| | Hamner, Millie | Democrat - 61 | |
| | Hullinghorst, Dickey | Democrat - 10 | |
| | Humphrey, Stephen | Republican - 48 | |
| | Joshi, Janak | Republican - 16 | |
| | Kagan, Daniel | Democrat - 3 | |
| | Klingenschmitt, Gordon | Republican - 15 | |
| | Kraft-Tharp, Tracy | Democrat - 29 | |
| | Landgraf, Lois | Republican - 21 | |
| | Lawrence, Polly | Republican - 39 | |
| | Lebsock, Steve | Democrat - 34 | |
| | Lee, Pete | Democrat - 18 | |
| | Leonard, Timothy | Republican - 25 | |
| | Lontine, Susan | Democrat - 1 | |
| | Lundeen, Paul | Republican - 19 | |
| | McCann, Beth | Democrat - 8 | |
| | Melton, Jovan | Democrat - 41 | |
| | Mitsch Bush, Diane | Democrat - 26 | |
| | Moreno, Dominick | Democrat - 32 | |
| | Navarro, Clarice | Republican - 47 | |
| | Neville, Patrick | Republican - 45 | |
| | Nordberg, Dan | Republican - 14 | |
| | Pabon, Dan | Democrat - 4 | |
| | Pettersen, Brittany | Democrat - 28 | |
| | Primavera, Dianne | Democrat - 33 | |
| | Priola, Kevin | Republican - 56 | |
| | Rankin, Bob | Republican - 57 | |
| | Ransom, Kim | Republican - 44 | |
| | Rosenthal, Paul | Democrat - 9 | |
| | Roupé. Catherine | Republican - 17 | |
| | Ryden, Su | Democrat - 36 | |
| | Saine, Lori | Republican - 63 | |
| | Salazar, Joseph | Democrat - 31 | |
| | Sias, Lang | Republican - 27 | |
| | Singer, Jonathan | Democrat - 11 | |
| | Thurlow, Dan | Republican - 55 | |
| | Tyler, Max | Democrat - 23 | |
| | Van Winkle, Kevin | Republican - 43 | |
| | Vigil, Edward | Democrat - 62 | |
| | Willett, Yeulin | Republican - 54 | |
| | Williams, Angela | Democrat - 7 | |
| | Wilson, Jim | Republican - 60 | |
| | Windholz, Joann | Republican - 30 | |
| | Winter, Faith | Democrat - 35 | |
| | Wist, Cole | Republican - 37 | |
| | Young, Dave | Democrat - 50 | |
Senate Votes
| | Senator | Party - District | Vote |
| --- | --- | --- | --- |
| | Aguilar, Irene | Democrat - 32 | |
| | Baumgardner, Randy | Republican - 8 | |
| | Cadman, Bill | Republican - 12 | |
| | Carroll, Morgan | Democrat - 29 | |
| | Cooke, John | Republican - 13 | |
| | Crowder, Larry | Republican - 35 | |
| | Donovan, Kerry | Democrat - 5 | |
| | Garcia, Leroy | Democrat - 3 | |
| | Grantham, Kevin | Republican - 2 | |
| | Guzman, Lucia | Democrat - 34 | |
| | Heath, Rollie | Democrat - 18 | |
| | Hill, Owen | Republican - 10 | |
| | Hodge, Mary | Democrat - 25 | |
| | Holbert, Chris | Republican - 30 | |
| | Jahn, Cheri | Democrat - 20 | |
| | Johnston, Michael | Democrat - 33 | |
| | Jones, Matt | Democrat - 17 | |
| | Kefalas, John | Democrat - 14 | |
| | Kerr, Andy | Democrat - 22 | |
| | Lambert, Kent | Republican - 9 | |
| | Lundberg, Kevin | Republican - 15 | |
| | Marble, Vicki | Republican - 23 | |
| | Martinez Humenik, Beth | Republican - 24 | |
| | Merrifield, Michael | Democrat - 11 | |
| | Neville, Tim | Republican - 16 | |
| | Newell, Linda | Democrat - 26 | |
| | Roberts, Ellen | Republican - 6 | |
| | Scheffel, Mark | Republican - 4 | |
| | Scott, Ray | Republican - 7 | |
| | Sonnenberg, Jerry | Republican - 1 | |
| | Steadman, Pat | Democrat - 31 | |
| | Tate, Jack | Republican - 27 | |
| | Todd, Nancy | Democrat - 28 | |
| | Ulibarri, Jessie | Democrat - 21 | |
| | Woods, Laura | Republican - 19 | |