Limit State Agency Authority to Impose Fines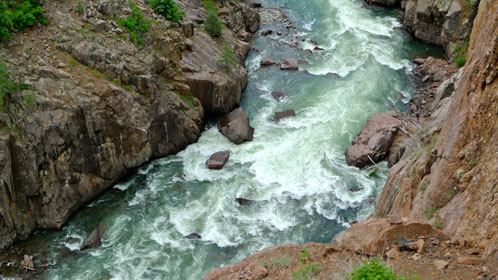 No
is the pro-environment vote.
Status: Failed in House
Description: After serious water quality issues went ignored for months, the state of Colorado imposed a significant fine on the town of Burlington in northeast Colorado. This fine was designed to trigger action and accountability to protect the drinking water of the community; however, local complaints about the fine rose all the way to the Capitol. This bill proposed curbing the state's authority to impose this kind of fine, even though fiscal penalties are often the only tool to prompt clean up by industry or communities that are not prioritizing public health.
| | | | |
| --- | --- | --- | --- |
| Pro-Environment Vote | Anti-Environment Vote | Excused | 100% Environmental Voting Record in 2016 |
Senate Votes
| | Senator | Party - District | Vote |
| --- | --- | --- | --- |
| | Aguilar, Irene | Democrat - 32 | |
| | Baumgardner, Randy | Republican - 8 | |
| | Cadman, Bill | Republican - 12 | |
| | Carroll, Morgan | Democrat - 29 | |
| | Cooke, John | Republican - 13 | |
| | Crowder, Larry | Republican - 35 | |
| | Donovan, Kerry | Democrat - 5 | |
| | Garcia, Leroy | Democrat - 3 | |
| | Grantham, Kevin | Republican - 2 | |
| | Guzman, Lucia | Democrat - 34 | |
| | Heath, Rollie | Democrat - 18 | |
| | Hill, Owen | Republican - 10 | |
| | Hodge, Mary | Democrat - 25 | |
| | Holbert, Chris | Republican - 30 | |
| | Jahn, Cheri | Democrat - 20 | |
| | Johnston, Michael | Democrat - 33 | |
| | Jones, Matt | Democrat - 17 | |
| | Kefalas, John | Democrat - 14 | |
| | Kerr, Andy | Democrat - 22 | |
| | Lambert, Kent | Republican - 9 | |
| | Lundberg, Kevin | Republican - 15 | |
| | Marble, Vicki | Republican - 23 | |
| | Martinez Humenik, Beth | Republican - 24 | |
| | Merrifield, Michael | Democrat - 11 | |
| | Neville, Tim | Republican - 16 | |
| | Newell, Linda | Democrat - 26 | |
| | Roberts, Ellen | Republican - 6 | |
| | Scheffel, Mark | Republican - 4 | |
| | Scott, Ray | Republican - 7 | |
| | Sonnenberg, Jerry | Republican - 1 | |
| | Steadman, Pat | Democrat - 31 | |
| | Tate, Jack | Republican - 27 | |
| | Todd, Nancy | Democrat - 28 | |
| | Ulibarri, Jessie | Democrat - 21 | |
| | Woods, Laura | Republican - 19 | |