HB 1405
State Budget (Long Bill Air Amendment)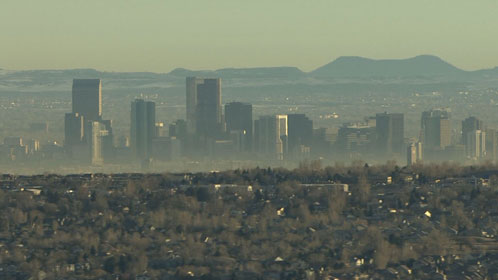 Yes
is the pro-environment vote.
Status: Failed in Senate
Description: Each year the "Long Bill" is introduced, which includes all spending for the state. This bill is prepared by the Joint Budget Committee (JBC) and then debated by the full House and Senate. This year, spending authority for the Colorado Air Quality Control Division's "Stationary Sources Fund" was blocked during the JBC process by three members of the committee, who were protesting the state's intent to implement the Clean Power Plan. The Long Bill was introduced without the authority for the state to use this fund, blocking state money from being used to implement about half of all air quality protections and enforcements for Colorado, including salaries for 95 full time employees.The House restored the spending authority, but it was again stripped by the Republican-controlled Senate. Senator Steadman ran an amendment to restore full funding, which failed, but nearly all of the funding was restored during a conference committee. We are scoring the vote on Senator Steadman's amendment.
| | | | |
| --- | --- | --- | --- |
| Pro-Environment Vote | Anti-Environment Vote | Excused | 100% Environmental Voting Record in 2016 |
Senate Votes
| | Senator | Party - District | Vote |
| --- | --- | --- | --- |
| | Aguilar, Irene | Democrat - 32 | |
| | Baumgardner, Randy | Republican - 8 | |
| | Cadman, Bill | Republican - 12 | |
| | Carroll, Morgan | Democrat - 29 | |
| | Cooke, John | Republican - 13 | |
| | Crowder, Larry | Republican - 35 | |
| | Donovan, Kerry | Democrat - 5 | |
| | Garcia, Leroy | Democrat - 3 | |
| | Grantham, Kevin | Republican - 2 | |
| | Guzman, Lucia | Democrat - 34 | |
| | Heath, Rollie | Democrat - 18 | |
| | Hill, Owen | Republican - 10 | |
| | Hodge, Mary | Democrat - 25 | |
| | Holbert, Chris | Republican - 30 | |
| | Jahn, Cheri | Democrat - 20 | |
| | Johnston, Michael | Democrat - 33 | |
| | Jones, Matt | Democrat - 17 | |
| | Kefalas, John | Democrat - 14 | |
| | Kerr, Andy | Democrat - 22 | |
| | Lambert, Kent | Republican - 9 | |
| | Lundberg, Kevin | Republican - 15 | |
| | Marble, Vicki | Republican - 23 | |
| | Martinez Humenik, Beth | Republican - 24 | |
| | Merrifield, Michael | Democrat - 11 | |
| | Neville, Tim | Republican - 16 | |
| | Newell, Linda | Democrat - 26 | |
| | Roberts, Ellen | Republican - 6 | |
| | Scheffel, Mark | Republican - 4 | |
| | Scott, Ray | Republican - 7 | |
| | Sonnenberg, Jerry | Republican - 1 | |
| | Steadman, Pat | Democrat - 31 | |
| | Tate, Jack | Republican - 27 | |
| | Todd, Nancy | Democrat - 28 | |
| | Ulibarri, Jessie | Democrat - 21 | |
| | Woods, Laura | Republican - 19 | |