Alternative Fuel Motor Vehicle Income Tax Credits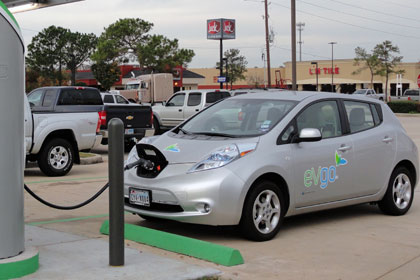 Yes
is the pro-environment vote.
Status: Signed into law
Description: This bill updated and streamlined an existing tax credit which benefits buyers of alternative fuel vehicles, like Electric Vehicles (EVs). Previously, taxpayers had to navigate a complicated formula and long process with the Colorado Department of Revenue. This bill clarifies tax credit amounts, extends the life of the program, and makes it easier for buyers to get the benefit of the credits up front, making an EV a simpler investment decision in Colorado.
| | | | |
| --- | --- | --- | --- |
| Pro-Environment Vote | Anti-Environment Vote | Excused | 100% Environmental Voting Record in 2016 |
House Votes
| | Representative | Party - District | Vote |
| --- | --- | --- | --- |
| | Arndt, Jeni | Democrat - 53 | |
| | Becker, Jon | Republican - 65 | |
| | Becker, K.C. | Democrat - 13 | |
| | Brown, J. Paul | Republican - 59 | |
| | Buck, Perry | Republican - 49 | |
| | Buckner, Janet | Democrat - 40 | |
| | Carver, Terri | Republican - 20 | |
| | Conti, Kathleen | Republican - 38 | |
| | Coram, Don | Republican - 58 | |
| | Court, Lois | Democrat - 6 | |
| | Danielson, Jessie | Democrat - 24 | |
| | DelGrosso, Brian | Republican - 51 | |
| | Dore, Timothy | Republican - 64 | |
| | Duran, Crisanta | Democrat - 5 | |
| | Esgar, Daneya | Democrat - 46 | |
| | Everett, Justin | Republican - 22 | |
| | Fields, Rhonda | Democrat - 42 | |
| | Foote, Mike | Democrat - 12 | |
| | Garnett, Alec | Democrat - 2 | |
| | Ginal, Joann | Democrat - 52 | |
| | Hamner, Millie | Democrat - 61 | |
| | Hullinghorst, Dickey | Democrat - 10 | |
| | Humphrey, Stephen | Republican - 48 | |
| | Joshi, Janak | Republican - 16 | |
| | Kagan, Daniel | Democrat - 3 | |
| | Klingenschmitt, Gordon | Republican - 15 | |
| | Kraft-Tharp, Tracy | Democrat - 29 | |
| | Landgraf, Lois | Republican - 21 | |
| | Lawrence, Polly | Republican - 39 | |
| | Lebsock, Steve | Democrat - 34 | |
| | Lee, Pete | Democrat - 18 | |
| | Leonard, Timothy | Republican - 25 | |
| | Lontine, Susan | Democrat - 1 | |
| | Lundeen, Paul | Republican - 19 | |
| | McCann, Beth | Democrat - 8 | |
| | Melton, Jovan | Democrat - 41 | |
| | Mitsch Bush, Diane | Democrat - 26 | |
| | Moreno, Dominick | Democrat - 32 | |
| | Navarro, Clarice | Republican - 47 | |
| | Neville, Patrick | Republican - 45 | |
| | Nordberg, Dan | Republican - 14 | |
| | Pabon, Dan | Democrat - 4 | |
| | Pettersen, Brittany | Democrat - 28 | |
| | Primavera, Dianne | Democrat - 33 | |
| | Priola, Kevin | Republican - 56 | |
| | Rankin, Bob | Republican - 57 | |
| | Ransom, Kim | Republican - 44 | |
| | Rosenthal, Paul | Democrat - 9 | |
| | Roupé. Catherine | Republican - 17 | |
| | Ryden, Su | Democrat - 36 | |
| | Saine, Lori | Republican - 63 | |
| | Salazar, Joseph | Democrat - 31 | |
| | Sias, Lang | Republican - 27 | |
| | Singer, Jonathan | Democrat - 11 | |
| | Thurlow, Dan | Republican - 55 | |
| | Tyler, Max | Democrat - 23 | |
| | Van Winkle, Kevin | Republican - 43 | |
| | Vigil, Edward | Democrat - 62 | |
| | Willett, Yeulin | Republican - 54 | |
| | Williams, Angela | Democrat - 7 | |
| | Wilson, Jim | Republican - 60 | |
| | Windholz, Joann | Republican - 30 | |
| | Winter, Faith | Democrat - 35 | |
| | Wist, Cole | Republican - 37 | |
| | Young, Dave | Democrat - 50 | |
Senate Votes
| | Senator | Party - District | Vote |
| --- | --- | --- | --- |
| | Aguilar, Irene | Democrat - 32 | |
| | Baumgardner, Randy | Republican - 8 | |
| | Cadman, Bill | Republican - 12 | |
| | Carroll, Morgan | Democrat - 29 | |
| | Cooke, John | Republican - 13 | |
| | Crowder, Larry | Republican - 35 | |
| | Donovan, Kerry | Democrat - 5 | |
| | Garcia, Leroy | Democrat - 3 | |
| | Grantham, Kevin | Republican - 2 | |
| | Guzman, Lucia | Democrat - 34 | |
| | Heath, Rollie | Democrat - 18 | |
| | Hill, Owen | Republican - 10 | |
| | Hodge, Mary | Democrat - 25 | |
| | Holbert, Chris | Republican - 30 | |
| | Jahn, Cheri | Democrat - 20 | |
| | Johnston, Michael | Democrat - 33 | |
| | Jones, Matt | Democrat - 17 | |
| | Kefalas, John | Democrat - 14 | |
| | Kerr, Andy | Democrat - 22 | |
| | Lambert, Kent | Republican - 9 | |
| | Lundberg, Kevin | Republican - 15 | |
| | Marble, Vicki | Republican - 23 | |
| | Martinez Humenik, Beth | Republican - 24 | |
| | Merrifield, Michael | Democrat - 11 | |
| | Neville, Tim | Republican - 16 | |
| | Newell, Linda | Democrat - 26 | |
| | Roberts, Ellen | Republican - 6 | |
| | Scheffel, Mark | Republican - 4 | |
| | Scott, Ray | Republican - 7 | |
| | Sonnenberg, Jerry | Republican - 1 | |
| | Steadman, Pat | Democrat - 31 | |
| | Tate, Jack | Republican - 27 | |
| | Todd, Nancy | Democrat - 28 | |
| | Ulibarri, Jessie | Democrat - 21 | |
| | Woods, Laura | Republican - 19 | |