HB 1228
Agriculture Protection Water Right Transfer Mechanism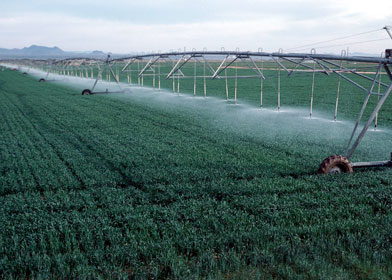 Yes
is the pro-environment vote.
Status: Signed into law
Description: Increased flexibility for sharing water is an idea that has shown promise as a solution to help meet our future water needs. This bill creates an alternative water transfer mechanism that allows an irrigation water right holder to change their right to the Agricultural Water Protection (AWP) water right, if certain conditions are met. This would allow them greater flexibility to temporarily lease, loan, or trade a portion of their water right. This tool was narrowed and limited in the Senate, proving even incremental changes to water rights are meeting resistance.
| | | | |
| --- | --- | --- | --- |
| Pro-Environment Vote | Anti-Environment Vote | Excused | 100% Environmental Voting Record in 2016 |
House Votes
| | Representative | Party - District | Vote |
| --- | --- | --- | --- |
| | Arndt, Jeni | Democrat - 53 | |
| | Becker, Jon | Republican - 65 | |
| | Becker, K.C. | Democrat - 13 | |
| | Brown, J. Paul | Republican - 59 | |
| | Buck, Perry | Republican - 49 | |
| | Buckner, Janet | Democrat - 40 | |
| | Carver, Terri | Republican - 20 | |
| | Conti, Kathleen | Republican - 38 | |
| | Coram, Don | Republican - 58 | |
| | Court, Lois | Democrat - 6 | |
| | Danielson, Jessie | Democrat - 24 | |
| | DelGrosso, Brian | Republican - 51 | |
| | Dore, Timothy | Republican - 64 | |
| | Duran, Crisanta | Democrat - 5 | |
| | Esgar, Daneya | Democrat - 46 | |
| | Everett, Justin | Republican - 22 | |
| | Fields, Rhonda | Democrat - 42 | |
| | Foote, Mike | Democrat - 12 | |
| | Garnett, Alec | Democrat - 2 | |
| | Ginal, Joann | Democrat - 52 | |
| | Hamner, Millie | Democrat - 61 | |
| | Hullinghorst, Dickey | Democrat - 10 | |
| | Humphrey, Stephen | Republican - 48 | |
| | Joshi, Janak | Republican - 16 | |
| | Kagan, Daniel | Democrat - 3 | |
| | Klingenschmitt, Gordon | Republican - 15 | |
| | Kraft-Tharp, Tracy | Democrat - 29 | |
| | Landgraf, Lois | Republican - 21 | |
| | Lawrence, Polly | Republican - 39 | |
| | Lebsock, Steve | Democrat - 34 | |
| | Lee, Pete | Democrat - 18 | |
| | Leonard, Timothy | Republican - 25 | |
| | Lontine, Susan | Democrat - 1 | |
| | Lundeen, Paul | Republican - 19 | |
| | McCann, Beth | Democrat - 8 | |
| | Melton, Jovan | Democrat - 41 | |
| | Mitsch Bush, Diane | Democrat - 26 | |
| | Moreno, Dominick | Democrat - 32 | |
| | Navarro, Clarice | Republican - 47 | |
| | Neville, Patrick | Republican - 45 | |
| | Nordberg, Dan | Republican - 14 | |
| | Pabon, Dan | Democrat - 4 | |
| | Pettersen, Brittany | Democrat - 28 | |
| | Primavera, Dianne | Democrat - 33 | |
| | Priola, Kevin | Republican - 56 | |
| | Rankin, Bob | Republican - 57 | |
| | Ransom, Kim | Republican - 44 | |
| | Rosenthal, Paul | Democrat - 9 | |
| | Roupé. Catherine | Republican - 17 | |
| | Ryden, Su | Democrat - 36 | |
| | Saine, Lori | Republican - 63 | |
| | Salazar, Joseph | Democrat - 31 | |
| | Sias, Lang | Republican - 27 | |
| | Singer, Jonathan | Democrat - 11 | |
| | Thurlow, Dan | Republican - 55 | |
| | Tyler, Max | Democrat - 23 | |
| | Van Winkle, Kevin | Republican - 43 | |
| | Vigil, Edward | Democrat - 62 | |
| | Willett, Yeulin | Republican - 54 | |
| | Williams, Angela | Democrat - 7 | |
| | Wilson, Jim | Republican - 60 | |
| | Windholz, Joann | Republican - 30 | |
| | Winter, Faith | Democrat - 35 | |
| | Wist, Cole | Republican - 37 | |
| | Young, Dave | Democrat - 50 | |