HB 1136
Multiple Crew Members Required for Freight Trains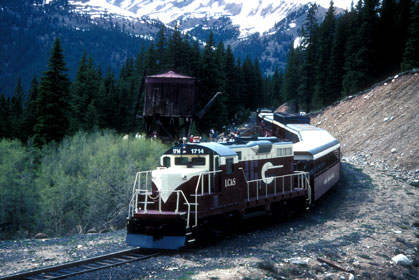 Yes
is the pro-environment vote.
Status: Failed in Senate
Description: In recent years, railroad companies have been dramatically reducing crews on freight trains, and often only a single conductor is onboard. This change has been enabled by new technologies which are improving safety in some conditions but cannot control for all situations. With more and more chemicals, oil, gas, and other potentially harmful materials being shipped by rail, this bill would have helped improve train safety. Having both an engineer and a conductor on board each train in Colorado provides backup in case of emergencies, reduces the risk of accidents, and allows for better working conditions for staff on the trains.
| | | | |
| --- | --- | --- | --- |
| Pro-Environment Vote | Anti-Environment Vote | Excused | 100% Environmental Voting Record in 2016 |
House Votes
| | Representative | Party - District | Vote |
| --- | --- | --- | --- |
| | Arndt, Jeni | Democrat - 53 | |
| | Becker, Jon | Republican - 65 | |
| | Becker, K.C. | Democrat - 13 | |
| | Brown, J. Paul | Republican - 59 | |
| | Buck, Perry | Republican - 49 | |
| | Buckner, Janet | Democrat - 40 | |
| | Carver, Terri | Republican - 20 | |
| | Conti, Kathleen | Republican - 38 | |
| | Coram, Don | Republican - 58 | |
| | Court, Lois | Democrat - 6 | |
| | Danielson, Jessie | Democrat - 24 | |
| | DelGrosso, Brian | Republican - 51 | |
| | Dore, Timothy | Republican - 64 | |
| | Duran, Crisanta | Democrat - 5 | |
| | Esgar, Daneya | Democrat - 46 | |
| | Everett, Justin | Republican - 22 | |
| | Fields, Rhonda | Democrat - 42 | |
| | Foote, Mike | Democrat - 12 | |
| | Garnett, Alec | Democrat - 2 | |
| | Ginal, Joann | Democrat - 52 | |
| | Hamner, Millie | Democrat - 61 | |
| | Hullinghorst, Dickey | Democrat - 10 | |
| | Humphrey, Stephen | Republican - 48 | |
| | Joshi, Janak | Republican - 16 | |
| | Kagan, Daniel | Democrat - 3 | |
| | Klingenschmitt, Gordon | Republican - 15 | |
| | Kraft-Tharp, Tracy | Democrat - 29 | |
| | Landgraf, Lois | Republican - 21 | |
| | Lawrence, Polly | Republican - 39 | |
| | Lebsock, Steve | Democrat - 34 | |
| | Lee, Pete | Democrat - 18 | |
| | Leonard, Timothy | Republican - 25 | |
| | Lontine, Susan | Democrat - 1 | |
| | Lundeen, Paul | Republican - 19 | |
| | McCann, Beth | Democrat - 8 | |
| | Melton, Jovan | Democrat - 41 | |
| | Mitsch Bush, Diane | Democrat - 26 | |
| | Moreno, Dominick | Democrat - 32 | |
| | Navarro, Clarice | Republican - 47 | |
| | Neville, Patrick | Republican - 45 | |
| | Nordberg, Dan | Republican - 14 | |
| | Pabon, Dan | Democrat - 4 | |
| | Pettersen, Brittany | Democrat - 28 | |
| | Primavera, Dianne | Democrat - 33 | |
| | Priola, Kevin | Republican - 56 | |
| | Rankin, Bob | Republican - 57 | |
| | Ransom, Kim | Republican - 44 | |
| | Rosenthal, Paul | Democrat - 9 | |
| | Roupé. Catherine | Republican - 17 | |
| | Ryden, Su | Democrat - 36 | |
| | Saine, Lori | Republican - 63 | |
| | Salazar, Joseph | Democrat - 31 | |
| | Sias, Lang | Republican - 27 | |
| | Singer, Jonathan | Democrat - 11 | |
| | Thurlow, Dan | Republican - 55 | |
| | Tyler, Max | Democrat - 23 | |
| | Van Winkle, Kevin | Republican - 43 | |
| | Vigil, Edward | Democrat - 62 | |
| | Willett, Yeulin | Republican - 54 | |
| | Williams, Angela | Democrat - 7 | |
| | Wilson, Jim | Republican - 60 | |
| | Windholz, Joann | Republican - 30 | |
| | Winter, Faith | Democrat - 35 | |
| | Wist, Cole | Republican - 37 | |
| | Young, Dave | Democrat - 50 | |