Residential Precipitation Collection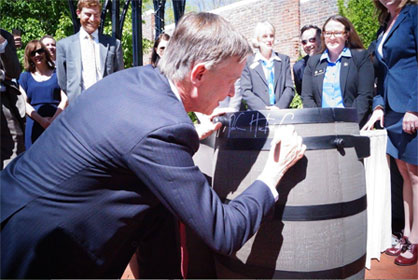 Yes
is the pro-environment vote.
Status: Signed into law
Description: After receiving resounding support from Coloradans across the state, we have now joined the rest of the nation in allowing residential rain barrels. Residents can have two barrels with a total capacity of 110 gallons to collect rainwater for outdoor irrigation. A conservation tool and way to increase knowledge of our water use, this bill had bipartisan support, and it adds much-needed flexibility to water laws while respecting private water rights. Rain barrels are finally legal!
| | | | |
| --- | --- | --- | --- |
| Pro-Environment Vote | Anti-Environment Vote | Excused | 100% Environmental Voting Record in 2016 |
House Votes
| | Representative | Party - District | Vote |
| --- | --- | --- | --- |
| | Arndt, Jeni | Democrat - 53 | |
| | Becker, Jon | Republican - 65 | |
| | Becker, K.C. | Democrat - 13 | |
| | Brown, J. Paul | Republican - 59 | |
| | Buck, Perry | Republican - 49 | |
| | Buckner, Janet | Democrat - 40 | |
| | Carver, Terri | Republican - 20 | |
| | Conti, Kathleen | Republican - 38 | |
| | Coram, Don | Republican - 58 | |
| | Court, Lois | Democrat - 6 | |
| | Danielson, Jessie | Democrat - 24 | |
| | DelGrosso, Brian | Republican - 51 | |
| | Dore, Timothy | Republican - 64 | |
| | Duran, Crisanta | Democrat - 5 | |
| | Esgar, Daneya | Democrat - 46 | |
| | Everett, Justin | Republican - 22 | |
| | Fields, Rhonda | Democrat - 42 | |
| | Foote, Mike | Democrat - 12 | |
| | Garnett, Alec | Democrat - 2 | |
| | Ginal, Joann | Democrat - 52 | |
| | Hamner, Millie | Democrat - 61 | |
| | Hullinghorst, Dickey | Democrat - 10 | |
| | Humphrey, Stephen | Republican - 48 | |
| | Joshi, Janak | Republican - 16 | |
| | Kagan, Daniel | Democrat - 3 | |
| | Klingenschmitt, Gordon | Republican - 15 | |
| | Kraft-Tharp, Tracy | Democrat - 29 | |
| | Landgraf, Lois | Republican - 21 | |
| | Lawrence, Polly | Republican - 39 | |
| | Lebsock, Steve | Democrat - 34 | |
| | Lee, Pete | Democrat - 18 | |
| | Leonard, Timothy | Republican - 25 | |
| | Lontine, Susan | Democrat - 1 | |
| | Lundeen, Paul | Republican - 19 | |
| | McCann, Beth | Democrat - 8 | |
| | Melton, Jovan | Democrat - 41 | |
| | Mitsch Bush, Diane | Democrat - 26 | |
| | Moreno, Dominick | Democrat - 32 | |
| | Navarro, Clarice | Republican - 47 | |
| | Neville, Patrick | Republican - 45 | |
| | Nordberg, Dan | Republican - 14 | |
| | Pabon, Dan | Democrat - 4 | |
| | Pettersen, Brittany | Democrat - 28 | |
| | Primavera, Dianne | Democrat - 33 | |
| | Priola, Kevin | Republican - 56 | |
| | Rankin, Bob | Republican - 57 | |
| | Ransom, Kim | Republican - 44 | |
| | Rosenthal, Paul | Democrat - 9 | |
| | Roupé. Catherine | Republican - 17 | |
| | Ryden, Su | Democrat - 36 | |
| | Saine, Lori | Republican - 63 | |
| | Salazar, Joseph | Democrat - 31 | |
| | Sias, Lang | Republican - 27 | |
| | Singer, Jonathan | Democrat - 11 | |
| | Thurlow, Dan | Republican - 55 | |
| | Tyler, Max | Democrat - 23 | |
| | Van Winkle, Kevin | Republican - 43 | |
| | Vigil, Edward | Democrat - 62 | |
| | Willett, Yeulin | Republican - 54 | |
| | Williams, Angela | Democrat - 7 | |
| | Wilson, Jim | Republican - 60 | |
| | Windholz, Joann | Republican - 30 | |
| | Winter, Faith | Democrat - 35 | |
| | Wist, Cole | Republican - 37 | |
| | Young, Dave | Democrat - 50 | |
Senate Votes
| | Senator | Party - District | HB 1005 |
| --- | --- | --- | --- |
| | Aguilar, Irene | Democrat - 32 | |
| | Baumgardner, Randy | Republican - 8 | |
| | Cadman, Bill | Republican - 12 | |
| | Carroll, Morgan | Democrat - 29 | |
| | Cooke, John | Republican - 13 | |
| | Crowder, Larry | Republican - 35 | |
| | Donovan, Kerry | Democrat - 5 | |
| | Garcia, Leroy | Democrat - 3 | |
| | Grantham, Kevin | Republican - 2 | |
| | Guzman, Lucia | Democrat - 34 | |
| | Heath, Rollie | Democrat - 18 | |
| | Hill, Owen | Republican - 10 | |
| | Hodge, Mary | Democrat - 25 | |
| | Holbert, Chris | Republican - 30 | |
| | Jahn, Cheri | Democrat - 20 | |
| | Johnston, Michael | Democrat - 33 | |
| | Jones, Matt | Democrat - 17 | |
| | Kefalas, John | Democrat - 14 | |
| | Kerr, Andy | Democrat - 22 | |
| | Lambert, Kent | Republican - 9 | |
| | Lundberg, Kevin | Republican - 15 | |
| | Marble, Vicki | Republican - 23 | |
| | Martinez Humenik, Beth | Republican - 24 | |
| | Merrifield, Michael | Democrat - 11 | |
| | Neville, Tim | Republican - 16 | |
| | Newell, Linda | Democrat - 26 | |
| | Roberts, Ellen | Republican - 6 | |
| | Scheffel, Mark | Republican - 4 | |
| | Scott, Ray | Republican - 7 | |
| | Sonnenberg, Jerry | Republican - 1 | |
| | Steadman, Pat | Democrat - 31 | |
| | Tate, Jack | Republican - 27 | |
| | Todd, Nancy | Democrat - 28 | |
| | Ulibarri, Jessie | Democrat - 21 | |
| | Woods, Laura | Republican - 19 | |